There Might Be Hope
Experts offer advice for reconciliation when the door is slammed shut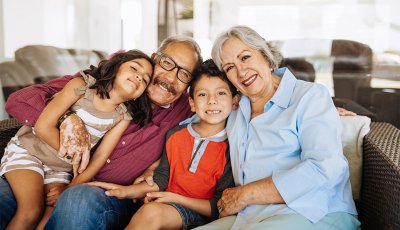 Grandparenting should be slurping ice cream, cheering at Saturday morning soccer games, and teaching a child to ride a bicycle, bake a cake or use a rod and reel. 
But some people can't enjoy these simple pleasures with their children's children. They're restricted when it comes to spending time with the kids. Children's parents are the gatekeepers who decide how much access grandparents have to grandchildren, and sometimes family feuds mean that access gets limited.
The impact on a banished grandparent can be loneliness, hurt, shame, blame and stigma from others who wonder what the older person did to "mess up [their] child," says Megan Dolbin-MacNab, an associate professor at Virginia Tech who has studied grandparenting for more than 20 years and is a marriage and family therapist.
Imagine lunching with friends who show off the latest photos of their grandkids — something that could trigger jealousy. "It's incredibly painful," Dolbin-MacNab says. "It is loss, it is grief…. It could be embarrassment." 
CAUSES OF ESTRANGEMENT
Issues large and small can launch a cold war between the generations.
Divorce and remarriage, or a parent's death, can lead to bad blood. Or a disapproving daughter-in-law or son-in-law might slam the door shut on a grandparent for their own reasons. 
Those reasons could range from seemingly minor disputes about junk food or screen time to larger disagreements over COVID-19 vaccines and masks, parenting techniques, politics, religion or sexual orientation, Dolbin-MacNab says. 
Around the world, grandparents are valued for their practical, emotional and financial support, she says, and as people live longer, relationships with grandchildren can last decades. Older folks can be caregivers, family historians, role models and mentors. 
But if a grandparent was perceived as toxic or abusive in the past, their adult children might decree: "You weren't a great parent to me, and I really don't want to expose my kids to that," Dolbin-MacNab says. For the older person, being cut off can feel brutal, since society frames grandparenting as a fun and rewarding role.
WHEN RELATIONSHIP GO OFF THE TRACKS
Karl Pillemer, a Cornell University gerontologist, set out his findings on estrangement in a 2020 book, Fault Lines: Fractured Families and How to Mend Them. A year earlier Pillemer led a national survey of 1,340 U.S. adults and found about 1 in 10 respondents reported estrangement from a parent or child. Grandchildren often are "collateral damage" amid such strife, he says.
Pillemer has identified six major pathways to family estrangement, starting with what he calls the "long arm of the past," which can involve a history of harsh parenting, emotional or physical abuse and neglect, favoritism or sibling rivalry.
Other pathways include divorce, resulting in hostility or weakened bonds; in-laws disliked by relatives or vice versa; conflicts over money and inheritance; differences in values or lifestyle; and unmet expectations.
When older adults are forbidden to see grandchildren, the rift can lead to social isolation, depression and anxiety, insomnia and low self-esteem, Pillemer says. And the chronic stress that results can spike on a birthday, holiday or other occasion, such as Grandparents' Day at a child's school. To compensate, some estranged grandparents form relationships with other children through volunteer work or informally adopt friends' kids, he says. 
6 TIPS TOWARD RECONCILIATION
Pillemer urges estranged grandparents to be a persistent presence in their grandkids' lives: Keep the lines of communication open, send cards and birthday gifts, and hope that when the child is 18 and the grandparent can reach out directly, there's a good foundation in place for a relationship.
Not every family, though, need bury the hatchet with Grandma or Grandpa — not if the older person has been "emotionally or physically abusive or otherwise damaging," Pillemer says.
But if reconciliation is a goal, he has six tips:
1. Decide to reconcile for yourself. Weigh the benefits to your health and well-being.
2. Abandon the need for an apology. Every story has two sides, so don't assign blame.
3. Consider your role in the rift. Reflect on the other person's perspective. 
4. Change expectations. Don't set unrealistic expectations; determine what is the least you can accept.
5. Focus on the future. Forget the past and build a future with boundaries and terms as needed.
6. Seek professional help. A therapist or mediator can help design a plan to initiate contact with the other person.
An additional tip comes from San Francisco area psychologist Joshua Coleman, author of Rules of Estrangement: Why Adult Children Cut Ties and How to Heal the Conflict, who has helped many ruptured families mend. As an early step toward détente, Coleman urges grandparents to write a "letter of amends" to their adult children to say they're sorry and take responsibility for what the child perceives the parent did wrong. "It's really a pure expression of empathy," he says, "and often for a lot of adult children, that's kind of enough to get the ball rolling."
WHAT DOES THE LAW SAY ABOUT GRANDPARENTS' RIGHTS? 

The U.S. Supreme Court ruled on a case in 2000 in which grandparents in Washington state sought more visitation with their late son's daughters.  

The children's parents were never married, later separated, and eventually their father died. The mother had allowed the paternal grandparents some visitation, but they wanted more. At the time, Washington law permitted anyone to ask for and be granted visitation if it served the child's best interest. 

As the case played out, the mother married, and her husband adopted the girls.  

The Supreme Court ruled in favor of the girls' mother. As a fit parent, she has a constitutional right to make decisions about the care, custody and control of her daughters, the court said in Troxel v. Granville.  

According to Atlanta attorney Thad F. Woody, state laws on grandchild visitation vary. He does not recommend that grandparents desiring more time with their grandkids file suit, however, saying it's better to resolve differences through mediation, in which a third party tries to help opposing sides settle an issue without the time and cost of litigation.