The decision has lasting effects for caregivers, but employers may be able to help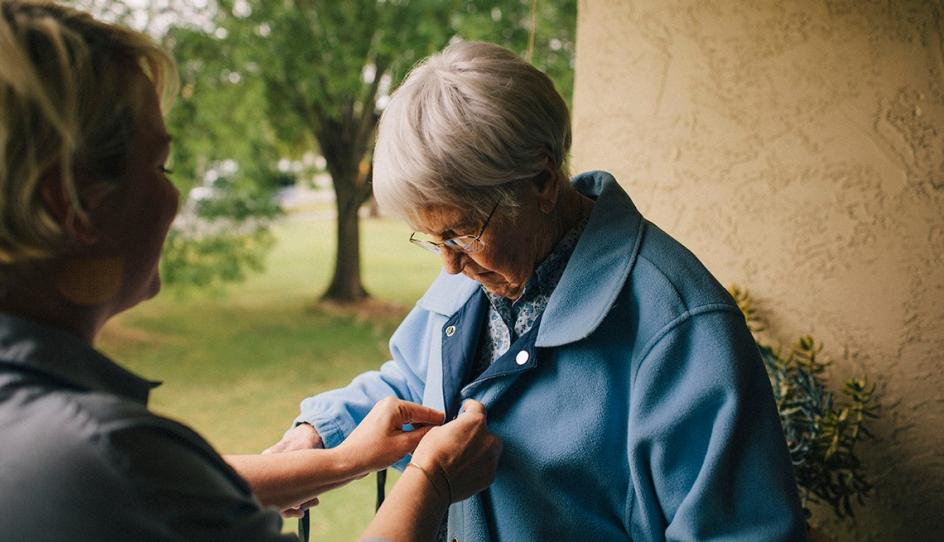 By Sharon Jayson, AARP. November 21, 2022
The pandemic disrupted the world of work, including the legion of employees who are also family caregivers.
Many left their jobs at the height of the pandemic to care for a loved one and have yet to return. With home health care workers in short supply, family caregivers who are still employed wonder if they might be better off quitting, too.
Juggling work and caregiving is like having "one full-time job and one 80 percent job," says Alison Romano, 57, of Wimberley, Texas. In June, Romano left the job she had for seven years as a project manager with the Texas Department of State Health Services to prepare for her father's August move into her 1,200-square-foot, two-bedroom home.
Her father, Kenneth Alvin Schmidt, nearly 82, has dementia. Romano now cares for him full-time.
"I felt like … it would be easier for me not to work and would simplify my life. I just couldn't do it all."
—Alison Romano, 57, Wimberley, Texas
Until August, her dad had been in an assisted living facility nearby, but "that situation took a lot of oversight," says Romano, who was unhappy with the care he was receiving. She had weekly meetings with three different executive directors in the 18 months her father lived there. Romano, who also has a master's degree in public health, planned her exit for about a year.
"I felt like this would be a better solution, that it would be easier for me not to work and would simplify my life," she says. "I just couldn't do it all."
Caregivers face financial sacrifices
Of an estimated 53 million caregivers in this country, more than 19 percent care for an adult, according to a 2020 report, "Caregiving in the U.S.," from the National Alliance for Caregiving and AARP. The majority (61 percent) also held down paying jobs at some point while caregiving, and 40 percent live with the care recipient.
But leaving a paying job to become a full-time caregiver isn't a decision made lightly. The average caregiver is 49 years old and likely to be caring for a parent.
Caregivers who temporarily exit the workforce at that age or later usually sacrifice some of their highest earning years. That sacrifice reverberates beyond the immediate loss of income and benefits with lasting financial implications for the caregiver.
Reentering the labor force later may be difficult and even involve being hired at a salary lower than before. Because Social Security benefits are based on a person's 35 highest-earning years, a lengthy hiatus from the workforce can reduce the monthly amount a caregiver gets in retirement. And some older caregivers never return to the workforce.
---
"Caregivers are more likely to retire early," says Yulya Truskinovsky, an assistant professor of economics at Wayne State University in Detroit. "You can never predict how long somebody is going to need care."
---
Are you hurting your own retirement?
Steven Huberman, founding dean emeritus of the Touro College Graduate School of Social Work in New York City, urges workers to consider their total financial resources, including whether they have an employed partner or spouse, an emergency fund and retirement income.
"Unless you can take care of your own retirement, you're only going to pass this burden onto your children. Don't quit if that's the situation," Huberman says.
Take stock of the emotional costs as well, he says.
Alison Romano and her dad Kenneth Alvin Schmidt COURTESY ALISON ROMANO
"The person may be cranky, unappreciative and say hurtful things," Huberman says. "Are you ready for the exhaustion? Are your siblings ready to be supportive, regardless of where they live?"
How employers can help
Caregivers at their wits end and ready to quit working should explore other alternatives first. Truskinovsky urges caregivers to check into the Family and Medical Leave Act, better known as FMLA, which lets workers take up to 12 weeks off in a calendar year to care for a relative.
Other benefits, like flexible work hours, can also help. The pandemic led to greater flexibility, which Truskinovsky says is "actually more compatible with caring for an older adult."
Hybrid work or full-time telework can help caregivers balance their responsibilities. John Dooney, knowledge adviser at the Society for Human Resource Management (SHRM) says hybrid work "provides better flexibility so people don't leave. This is what employers are doing to retain employees and to hire them."
He says employers have other ways to assist employees, including reducing their hours from full-time to part-time; consolidating personal, sick and vacation days to give the caregiver extended time off from work; or taking advantage of flexible spending accounts, which the caregiver can use for the care recipient's medical expenses, as long the person is claimed as a dependent.
Some employers also offer caregiving benefits, such as counseling, dependent care assistance plans that allow an employee to set aside tax-free money to cover qualified day care costs for adult dependents, and referrals to help with care.
Always important: A backup plan
Before her exit, Romano reviewed her finances, including savings and the value of her riverfront property, which includes a home and a small cabin. If money becomes tight, she believes she could sell her home and move somewhere cheaper.
A caregiver break is rare. Over the past three months, she paid a friend to stay with her father for one night. She's taken him to some adult day care programs and uses that time to manage his doctors and other paperwork.
"This job has required just as much strength as any job I've ever had," Romano says. "It has an emotional component. There's definitely family stuff, and you're having to deal with that in your face."
Sharon Jayson is a contributing writer who covers aging, family, health care and retirement. She previously worked for USA Today and the Austin American-Statesman, and she also has written for Kaiser Health News, Time magazine and The Washington Post.