Posted on  by Institute on Aging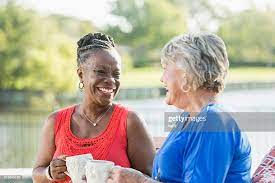 It's no secret that the holidays can be rough for older adults who live alone and don't have family members nearby. For many seniors, it can be downright depressing to spend a holiday without loved ones around. Doing something for someone in this situation, even if it is a small and simple gesture, can make a big difference. We've put together some ideas of things you can do to make a senior's holiday season a little brighter and to feel a bit less lonely.
---
Bring a home cooked dinner to a homebound senior. If you can't do it on Thanksgiving Day, perhaps the day after or the following weekend. Even better, make it a "date" by bringing dinner for two, and eat with them. More than the food, the senior will enjoy your company. Ask them questions about their past or their family. Most people love talking about their memories.
If you can't deliver a meal in person, you can send a special meal from one of the senior's favorite restaurants via a delivery service such as GrubHub or DoorDash. Many seniors don't cook for themselves, or they may use meal services, so having a meal from a restaurant will feel like an extra special treat. Ask if the restaurant can deliver a note from you along with the meal. Or you can use a prepared meal delivery service, such as Luke's Local or Good Eggs, to deliver a freshly cooked, made-to-order dinner. There are several choices in San Francisco as well as throughout California.
Instead of a late day meal, surprise a senior with a cup of freshly brewed coffee and a bagel or muffin in the morning, along with some simple Fall flowers or perhaps a holiday decoration that they can enjoy during the season.
If the senior lives in a home with a yard, but can't afford gardening services, show up with some gardening tools and clean up outside. Bring the senior a cup of hot cider and cookie, and invite them to sit outside and visit with you while you work.
Most of us need a change of scenery now and again, and seniors are no different. Ask them if they'd like to go with you on a walk, or to a local park where they can watch kids or dogs play. Or take them on a local shopping trip to pick up something new that they want or need. It doesn't have to be a big or a long outing, and it will give them a breath of fresh air.