Before digging, pruning and planting, make sure you're ready for the work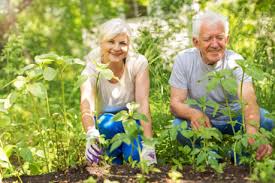 by Susan Moeller, AARP, March 15, 2021
Christine Zellers tries to run five miles every day and, at 53, considers herself to be in shape. But even she admits that gardening can leave her sore and achy.
"I feel it, especially in the beginning of the season," she says.
Zellers, an assistant professor of family and community health sciences with Rutgers Cooperative Extension of Cape May County, New Jersey, teaches gardening, leads group exercise classes and grows vegetables and herbs in her own garden in Ocean City, New Jersey. To protect her body, she tries to remember to stretch and limber up before heading out to dig, plant or lug big pots around.
For more ideas on gardening and exercise, look to these sources:
Your local extension service, associated with the U.S. Department of Agriculture, which may have materials like this fact sheet on gardening and exercise.

The American Occupational Therapy Association's tip sheet on safe gardening practices, with instructions on how to safely move and lift.

The American Physical Therapy Association 30-minute home stretching routine, with suggestions for three different levels of fitness.

Gardener's Fitness: Weeding Out the Aches and Pains, a 1999 book by fitness writer Barbara Pearlman, featuring exercises and stretches as well as tips for caring for your hands and feet.
"You want to be thinking about the kind of movement you're going to do and make sure you're strengthening those body parts, like your core and your back and your legs and your quadriceps," she says. "So you want to warm up a little bit just like you would if you were going for a run or doing an exercise class."
Gardeners and health experts warn against jumping into gardening activities without some pre-game preparation to build strength, stamina and aerobic power and prevent injury. 
For example, if your core body strength is off, your balance is also off, making falls a risk, says Maura Daly Iversen, a physical therapist and dean of the College of Health Professions at Sacred Heart University in Fairfield, Connecticut. And you need aerobic capacity to do the work, she says.
"My friends that don't garden think it's light work," says Iversen, who admits to being an "over-50" gardener. "But it can be pretty hefty work when you're removing bushes and whatever. So I think cardiovascular fitness is also important."
No gym membership needed
Amy Wagenfeld, an occupational therapist who has worked with the Massachusetts Arthritis Foundation and now designs therapeutic gardens, puts stretching at the top of her pre-gardening list. Starting out cold is "not the optimal strategy," she says.
"Heavy gardening — it's the equivalent of some heavy lifting," says Wagenfeld, 59, who's waiting out the pandemic in Seattle. "If you're shoveling, if you're hoeing, if you're raking, that's work. And one of the most important things about getting in shape to garden is to stretch and to stretch and to stretch."
You don't need a gym membership to get in shape for the garden, she says. Just be sure to move and get in some steps every 20 minutes or so, even if it's just walking around your house. Try some biceps curls using canned goods for weights or do some wall push-ups.
"For people who live in four-seasons climates, there's no time like the winter and the lead-in until spring to be really thinking about getting strong," says Wagenfeld.
In the meantime, here are six easy suggestions to get you started strengthening those gardening muscles:
1. Before heading out to the garden, take a walk around the block just to wake up your muscles. "Walking is a really good exercise, actually, for your core," says Zellers. When walking, stand tall with your shoulders back and relaxed, keep your hips even, and concentrate on your core muscles as you move, keeping your core steady to support the back, she says. 
2. Another way to strengthen your core: Sit in a chair and then stand without using your arms, says Iversen. See how many times you can do it in 30 seconds. 
3. Stretch your major joints gently and slowly and keep breathing while you do, says Wagenfeld. Take your shoulders, for example. First, make sure they're back and down. Then, one at a time, gently roll each one back and lower it to the position of comfort. Do this regularly while you're gardening, she says.
4. Don't forget your hamstrings, says Iversen. If they're really tight, lie flat on your back with a pillow under your head. Then grab behind your thigh and pull your extended leg toward you, keeping your knee as straight as possible. When you feel the stretch, hold it for a count of 10 or 15, while deep breathing. You should feel the muscle relax. When you do, gently pull the leg closer to your body.
5. To limber up your hands, touch your fingers to your thumb several times, Zeller suggests. Planks — supporting yourself in push-up position — will build strength in your wrists and hands, and so do wall push-ups, says Wagenfeld. "It involves a lot of muscular action and muscular control to be able to stretch, and then of course, to flex into the wall," she says. "With your hands on the wall, you get some really nice wrist flexion."
6. To build balance, stand on one foot, alternating legs, whenever you think of it, maybe while doing the dishes or brushing your teeth, says Wagenfeld. And practice leaning down and standing up, holding on to a chair if needed. You may eventually be able to do it without support. 
Susan Moeller is a contributing writer who covers lifestyle, health, finance and human-interest topics. A former newspaper reporter and editor, she also writes features and essays for the Boston Globe Magazine as well as her local NPR station, among other outlets.