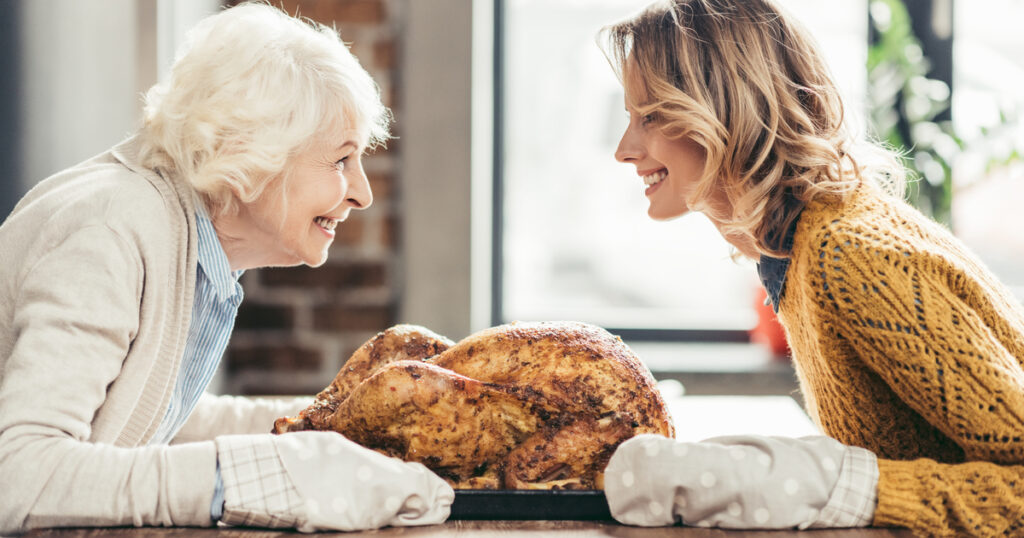 By Anne Marie Thompson|November 25th, 2019|Diet & Nutrition
Thanksgiving is a wonderful holiday where friends and family gather to celebrate all they are grateful for with a delicious feast. However, Thanksgiving dinners have the potential to deliver a lot of unhealthy dishes and plenty of excess calories. Seniors who need as much nutrition as they can get often fail to focus on the more nutritious dishes that are available during Thanksgiving.
Of course, elderly adults should not miss out on all the delicious treats from a traditional Thanksgiving meal. However, family caregivers and elderly care providers that are helping seniors with meal planning and preparation can steer them toward more nutritious dishes to balance it all out.
Elderly care providers can go grocery shopping for the Thanksgiving dinner and plan to include nutritious sides to accompany the turkey main dish.
Here are some of the healthiest and most delicious traditional sides for a Thanksgiving dinner that seniors are sure to love.
Fresh Green Beans
Not only do green beans have lots of vitamins and fiber, but they taste delicious as a side dish. They can be roasted, steamed, or included in a salad, especially if prepared from fresh and not canned. Green beans are also a fine vehicle for toppings like toasted almonds and sesame seeds.
Sweet Potatoes
Few vegetables are more nutritious than sweet potatoes. The carotenoids, which give them their lovely orange color, contribute to good vision. They also contain anti-oxidants and anti-inflammatories. Elderly care providers can roast cubes of sweet potatoes and drizzle them with butter and light maple syrup instead of candied dishes with way too much sugar.
Cranberries
There are so many health benefits from cranberries that seniors should be eating them beyond Thanksgiving. Using fresh cranberries, elderly care providers can make cranberry sauce that preserves all of the vitamins and minimizes the amount of sugar used. The dark red cranberries contain the most vitamin C, plus antioxidants and they've proven to be good at reducing the risk of urinary tract infections.
Pumpkin
If elderly care providers resist the temptation to mix pumpkin with lots of sugar, there are lots of pumpkin dishes that are very healthy. From a traditional pumpkin pie, pumpkin muffins, or pumpkin bread, seniors can get good taste and high-density nutrition combined. Elderly care providers need to be on the lookout for fat and sugar in such recipes, but the combination of whole grain and pureed pumpkin makes it ideal for seniors.
When seniors are in the habit of healthy dieting, it's easier to make good choices for food even during the decadent options at Thanksgiving and the holidays. Family caregivers and elderly care providers play a big part in what kind of food graces the table of the aging adult during Thanksgiving so they may as well steer the senior toward healthy options.