Summer Scams & the Elderly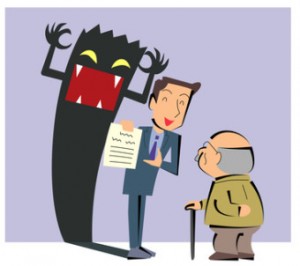 Ants and mosquitoes aren't the only pests that come out in the summer. As the mercury rises and we head in to summer, the number of fraud cases and scams against our elderly also climbs. It happens every year across Kentucky. AARP estimates that as many as one in five seniors has fallen victim to fraud. In warmer months, scammers come right to the front doors of neighborhoods and areas where seniors are more prevalent.
Common Scams
The most common types of financial scams to make your aging loved one aware of this summer include:
Prepaid yard services. They claim to be landscape companies that will put an elderly person's yard on their "retainer" service. For what seems like an inexpensive fee they will provide lawn care all summer. The catch is that they require payment up front. They may show up a time or two and then disappear. Taking your older loved one's money with them.
Exterior Home Repairs. Scammers know seniors have a tougher time getting up on a ladder to clean gutters or fixing cracks in their driveway. They show up and offer reasonable rates to provide these services. Some scammers do provide the service and then intimidate the senior in to paying more than the agreed upon price. Others require payment or partial payment up front and then never complete the work.
Roofing & Paving Companies. Many police officers will tell you that summer wouldn't be summer without these kinds of scams. Working in teams, they concentrate their in-person blitz in areas where they know retirees live. These scammers will claim to be from a roofing company or a paving company. Some will say they are in the neighborhood because they are doing work for a neighbor. Most fraud experts will tell you not to do business with anyone who just shows up at your door. If you or an elderly loved one need a new roof or a driveway repaved, it is best to get referrals by talking with a family member who was happy with a contractor or to read online reviews at sites like Angie's list.
Pre-Planned Funerals and Cemetery Plots. This is another door-to-door scam that peaks in the summer months. It is also one of the biggest sources of fraud against the elderly. The fake salesmen use high pressure and intimidation tactics to get the elderly to sign a contract. Some even use guilt. They tell seniors it is selfish not to take care of this ahead of time so their loved ones won't have to. Remind the older adult in your life to never sign a contract without sharing it with you and their attorney.
If you believe you or a loved one may have been a victim of a scam, call 911 immediately. The sooner the authorities can be involved, the more likely they are to recover your loved one's money.