Label, organize and toss old and broken items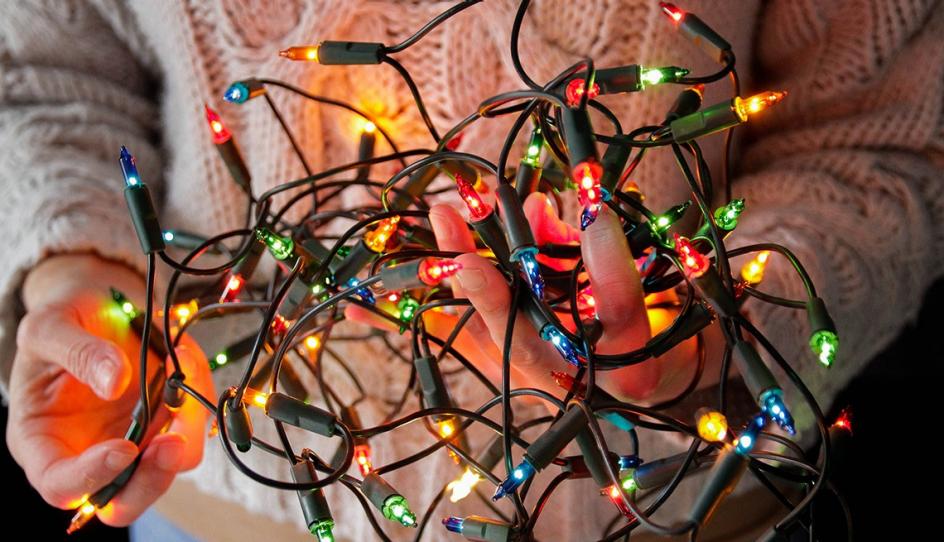 By Jodi Helmer, AARP/December 27, 2022
The tree was trimmed, the lights were strung and the stockings were hung by the chimney with care — and now it's time to take the decorations down until next year. You might be ready to move on, but don't rush through the process.​
"The biggest mistake people make is taking down their decorations haphazardly and just tossing things in a bin or box," says Catie Kelly, founder of Sistamatic Organizing. "Putting things away in an organized manner now will save you time and stress next year." ​
Before you pack a single ornament, nutcracker, strand of garland, flocked wreath or string of lights, follow these seven tips for un-decking the halls.​
1. Gather the pieces​
Instead of packing up one room at a time, professional organizer and blogger Lela Burris suggests gathering all of your decorations (and storage containers) in one room.​
Seeing the entire collection together, she explains, makes it easier to launder the linens, repair the broken decorations and pack similar items in the same box. Next year, when you need to find holiday pillows, you'll only have to open one box.​
2. Do damage control ​
Check your decorations for cracks, chips and broken or missing pieces before packing them up for another year. If a bulb needs to be replaced, replace it now. If a string on an ornament is frayed, add a new string. If an item got broken, repair it, suggests Burris.​
"You'll thank yourself next year when you don't have to spend an hour detangling lights and ironing deep wrinkles out of linens, or mourning broken ornaments," Kelly adds.​
3. Scrub seasonal items​
Don't store dirty decorations. ​
"It's much easier to clean your decor now than after it's sat on the shelf for 11 months," says Burris. "Don't give yourself a to-do list next holiday season."​
Kelly suggests treating stains and laundering holidays pillows, table linens and other fabrics; peeling melted wax off of candlesticks, menorahs or kinaras and making sure there's nothing sticky or greasy left on your holiday dishes and glassware; outdoor decor should also be wiped down before it's put into storage for next season. ​
4. Make a list, check it twice​
A list can make decorating easier next season. In addition to making a note of tape, ornament hooks, candles and other things you'll need to stock up on before you start decorating, write down reminders such as the number of light strands it takes to decorate the front porch.​
"You likely won't remember these things a year from now," Burris says. "Add this list to one of your storage containers so it doesn't get lost."​
5. Protect your decorations ​
You know that breakable ornaments should be wrapped in bubble wrap but you might be ignoring other important measures when it comes to protecting your holiday decorations.​
Kelly advises using cedar blocks to keep pests from destroying linens and adding moisture absorbers to prevent mold and mildew. Only use storage boxes with a tight seal. This will keep critters from getting inside and chewing on cords of holiday lights or nibbling the macaroni ornaments your grandchildren made.​
"Carefully storing your decorations at the end of the season means next year you can spend less time fixing, dusting and polishing your decor and more time doing the fun part," Kelly says.​
6. Contain the clutter ​
Choosing the right storage solutions provides better protection for your decorations and makes them easier to identify in the garage or attic next season. Burris prefers red and green (or other holiday-themed) storage totes because they stand out — just be sure to label them clearly so you know what's inside. ​
That's especially helpful if you need someone else, like a family member, to help locate and retrieve storage containers.​
You can also purchase containers designed for specific holiday items like quilted storage boxes for festive dinnerware, wreath bags and vertical gift wrap organizers. ​
7. Donate decorations ​
The hand-me-down tree topper and still-in-the-package Hanukkah linens that have been sitting in boxes for several seasons shouldn't be packed up again. Others might enjoy them.​
But only donate decorations that are in good condition; those that are worn or damaged past the point of repair should be tossed instead, Kelly says.​
Not sure you're ready to let something go? Burris has a suggestion: "Tie a brightly colored ribbon around those items before putting your containers back in storage," she says. "Next year, if those items still don't have a place in your home, you'll know they can be donated."​
Most senior centers, nursing homes, homeless shelters and community centers will welcome donations of festive decorations that are still in good condition.​
You spent so much time decking the halls for the holidays; taking down holiday decorations deserves equal care and attention.​
"After the holidays, we're in the mindset of cleaning and decluttering for the New Year," Burris says. "By taking time to clean, categorize and purge your holiday decorations as you take them down, you allow yourself to be intentional about what deserves storage space in your home."​
---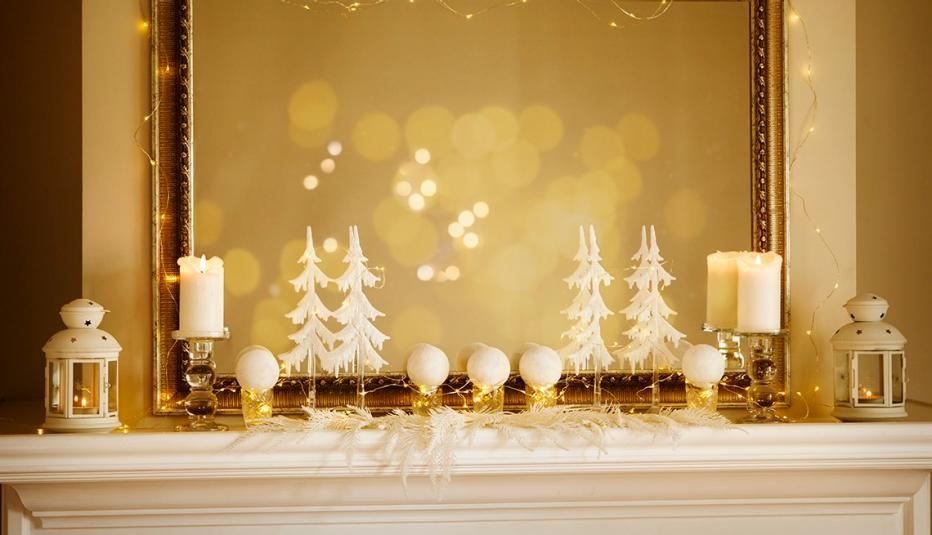 Want to Keep Holiday Decorations Going? ​
Holiday decorations bring joy for a month or so, then we pack them away, leaving our homes just a little quieter and sadder. Which begs the question: Why not use them throughout the year rather than sticking them in boxes in the attic? We asked home design experts for some ideas.​
Light up the dark​
After taking down the Christmas tree, hang those strings of lights around your porch, nestle them in a planting box or weave them around your mantelpiece, suggests Bre Eggert, a DIY and craft influencer on social media. "When you're washing your dishes, you look out on your patio and see the cute sparkle of lights," she says. "That really helps in the winter, when it's just so dark." In the summer, bundling your lights into mason jars can create the look of fireflies, suggests Taniya Nayak, a design expert and judge on ABC's The Great Christmas Light Fight. ​
Immortalize holiday cards​
If you've been mailed a Christmas card with a family portrait on the front, snap a photo with your phone and use it for the sender's contact image, suggests Eggert. "It's a cute way to reuse them, and then you don't feel like you're just like throwing all these cards out."​
Skip the wreath grief ​
As the saying goes: A wreath isn't just for Christmas. These leafy hangings can become true evergreens. "Replace the baubles and festive bow with a black-and-white checked ribbon, or tie a bow with some burlap," suggests Nayak. "Both will create a rustic farmhouse look." In spring, if you celebrate Easter, you can add a pastel bow and eggs. ​
Level up your bookcase ​
Sure, you'll want to pack up the decorations that depict Santa Claus and his reindeer, but other ornate objects, like a brass bell or a silver star, can be used as bookends to dress up a bookshelf any time of year. Unused or leftover gift ribbon? Try using it to wrap three coffee-table books together.​
Brighten things up​
Large candles are versatile additions to your home, no matter the date. Use your holiday candles to dress up a dinner table — especially if you're hosting guests for a summer feast outdoors. Place candles around the bathtub, arrange them on your mantelpiece or save them for a Valentine's Day celebration.
—Niamh Rowe
---
Jodi Helmer is a contributing writer who covers gardening, health and the environment. She has also written for Scientific American, National Geographic Traveler and NPR.​​​​