A realistic guide to self-care during the pandemic
by Lee Woodruff, AARP, February 17, 2021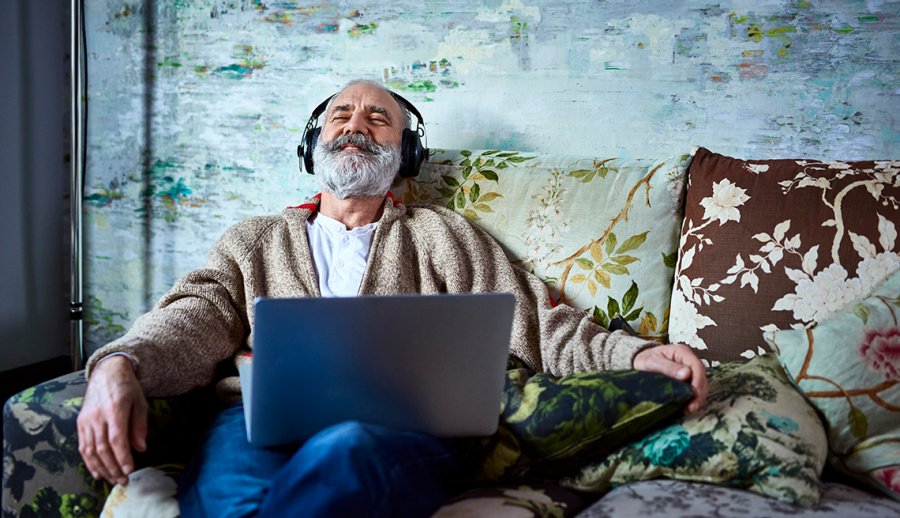 When I was actively caring for my husband during his recovery from a brain injury, there was one simple phrase that could instantly light my tail feathers on fire: "Be sure to take care of yourself." Boom. That was it.
Every caregiver has heard some version of that advice from well-meaning friends and family. And every caregiver has probably done what I did: smile politely, nod and think, Easier said than done.
The global coronavirus pandemic has strained the bonds and boundaries of people going about their daily lives. But for caregivers, the ensuing quarantine has made once-simple things, like having a friend spell you for a few hours of respite, either incredibly complex or prohibitive.
Carrie Barron, M.D., director of creativity for resilience at Dell Medical School at the University of Texas at Austin, points out that even 15 minutes of focusing on yourself can make a difference. "It's less about the time spent and more about staying connected to life-affirming experiences," Barron explains.
"Compassionate caregivers are altruists, whether their actions are driven by love or a sense of obligation. So it's normal to feel a twinge of guilt if we duck out or slip away from our caregiving duty to take time for ourselves."
But Barron suggests that what feels like a lapse actually gives you a leg up in the role of tending to others. "A lift from an activity we enjoy reenergizes, motivates and grounds us. It connects us to our core identity and gives us a sense of pleasure and effectiveness. Whether it's a brisk walk or a few more rows on a knitted scarf, a beloved activity enhances both mental and physical health. Being transported for a brief period gives us the strength to keep going and keep giving."
Sara Cohen, a potter in Chicago, has been married for 52 years. When her husband developed a rare autoimmune disease requiring hospitalization, she was determined to be by his side 24/7.
No longer able to spend all day in her studio, Cohen found small ways to recharge — going to the synagogue, running errands or taking a solo walk. She was also able to arrange some kind of coverage, from a friend or companion, so that she could attend her monthly book group and mah-jongg dates. When all of that stopped with the COVID-19 pandemic, Cohen needed to find different ways to stay centered and access "me time."
"We keep a jigsaw puzzle in progress on the table each week that either one or both of us can work on," she says. "I love being in nature, and it calms me to walk around our backyard, which is full of gardens we have spent years designing and planting. I pick up leaves, fallen branches, and I pull weeds." She also emails friends and family pictures of a weekly art creation, which gives her "a creativity goal" each week. "Depending on my week, I may spend 15 minutes or a few hours a day creating art."
As is true for so many of us, for Cohen, using videoconferencing for events has been a lifeline during the pandemic, removing the pressure of physically going out at a time when her husband's mobility is decreasing. Through Zoom, the Cohens can attend Friday-evening services at their synagogue, book groups and other events. "I think it's important that in a spouse/caregiver relationship there be some fun, non-caregiving, equal things we do together," she says. "And I look for activities like snuggling and watching a movie that put us on familiar footing as a couple."
To discover some of the best advice for a "home mini-recharge" during the pandemic, I asked caregivers what they did when unable to leave the house. Here are some of their suggestions.
A 15-minute meditative self-manicure

A paint-by-numbers kit that can be worked on during free time

A needlepoint or knitting project (thank you, YouTube, for instructional videos)

A quiet moment of prayer or meditation

A few yoga moves or stretching exercises

Breathing exercises

A quick walk in the safety of a yard, outside of an apartment or jumping up and down indoors

Dancing your heart out for 15 minutes to a memorable song from your teenage years

A bubble bath while reading a book or magazine

A 15-minute catnap

A phone call with an old (or new) friend

Rereading books loved as a child, like Little Women

Flipping through a beautiful coffee table book of photographs

Listening to an audiobook with headphones

Reading poetry — snack-sized bits of inspiration and wisdom

Journaling — One friend told me about a five-year journal that provides only four or five lines to transcribe thoughts or happenings from each day. It doesn't let you stare at a blank page but gives you enough space for gratitude and venting.
Michele Cappellano, a massage and wellness therapist in Rye, New York, observes that it's important to first recognize what skills you have in your own wheelhouse to make yourself feel good. "Ask yourself what you find most enjoyable or relaxing," she says, "and think about how you can participate in some version of this for a small chunk of time." At the end of the day, whether you are taking care of a loved one or not, anything that elevates your heart rate and allows for some happy thoughts is a good thing.